Dr Sabrina Zignani, researcher at CNR-ITAE, presented ANIONE results during the Hypothesis XVII conference which took place online as well as on location in Taipei, Taiwan.
The Hypothesis series provides a forum where representatives from industry, public laboratories, universities, and governmental agencies can meet, discuss, and present the most recent advances in hydrogen technology.
In her presentation "Recent achievements on a novel critical raw materials free used as cathode in a water alkaline electrolysis cell",  Sabrina presented results on development of nanosized CRM-free Ni-based anode and cathode catalysts that were tested in durability experiments in conjunction with an anionic membrane and ionomer (Fumatech Fumasep FAA3®), it was demonstrated that a proper current density (1 A cm-2) could be applied to alcaline electrolysis with good durability at appropriate current density. Several nano-sized metallic Ni and Ni alloy catalysts have been synthesized, both unsupported or dispersed on carbon supports, and deposited on carbonaceous gas diffusion layers. A variety of cathode configurations have been tested. The best performance has been obtained with a NiMo cathode catalyst supported on Ketjenblack at 50°C after a 2.000 hrs durability test in 1M KOH. Pure hydrogen was produced at the cathode with a faradaic efficiency better than 99%.
General event info
Date: 26-29 Sep 2022
Location: Taipei, Taiwan, and online
Event: Hypothesis XVII
Event website: www.hypothesis.ws
Estimation of attendees: 20-100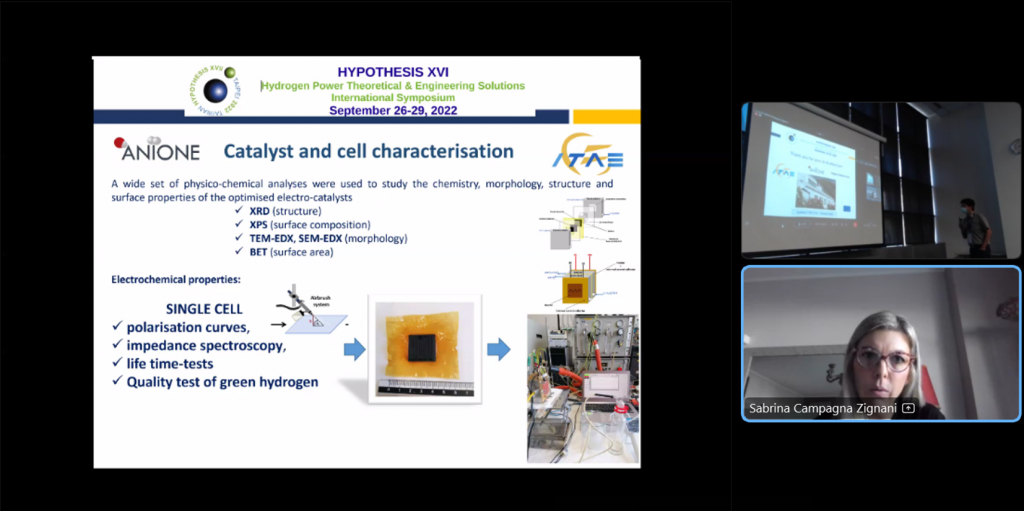 Figure: Dr Sabrina Zignani presenting ANIONE results to the Hypothesis XVII audience.